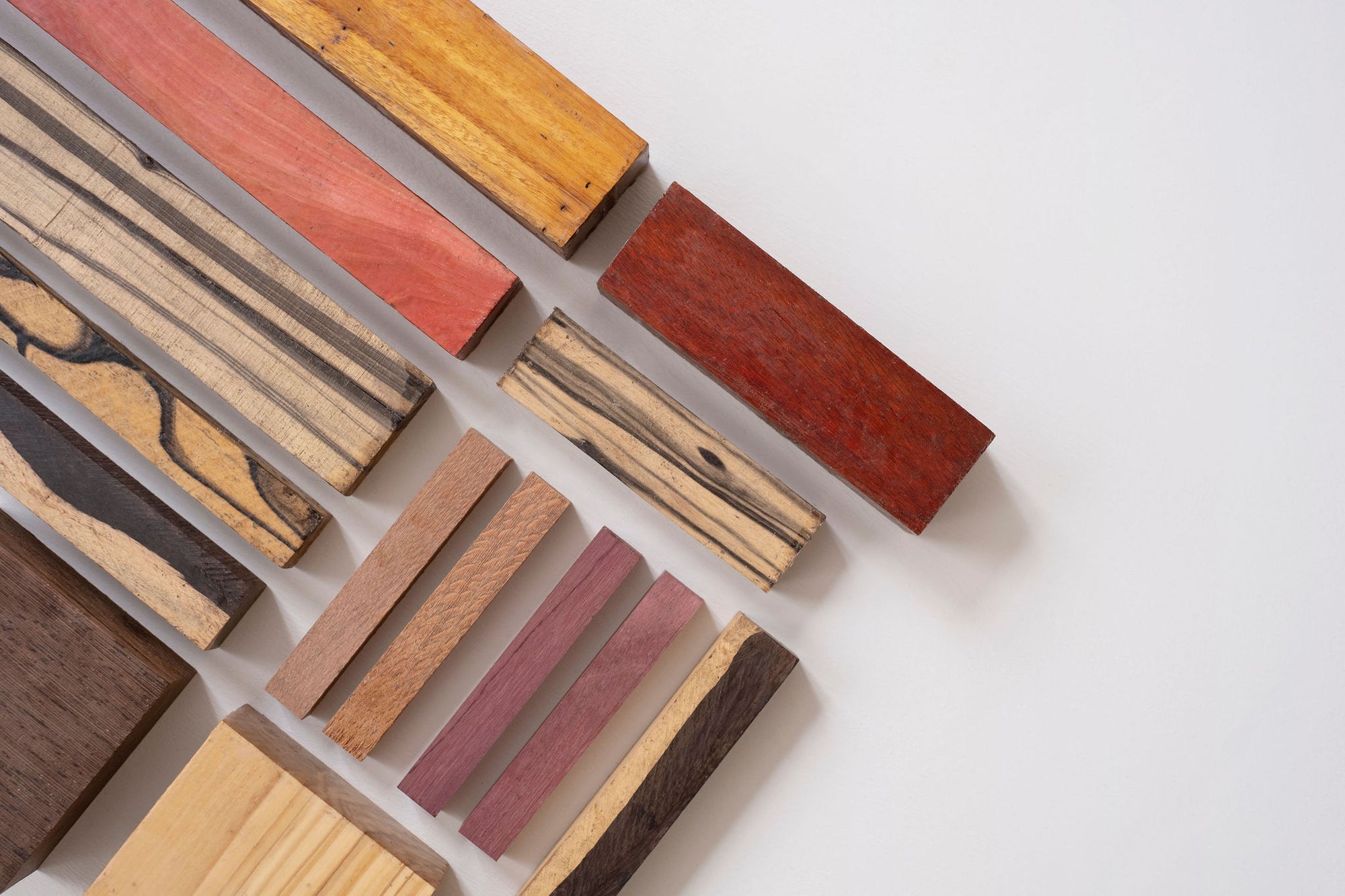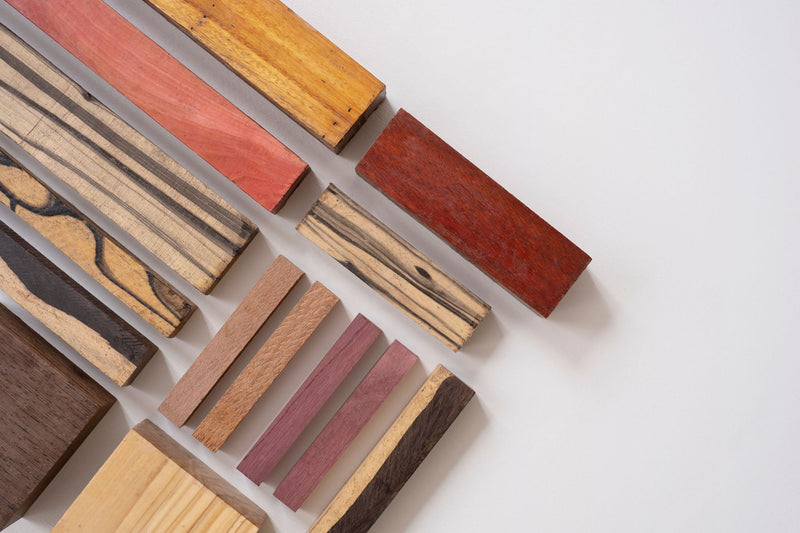 Celebrating Natural Beauty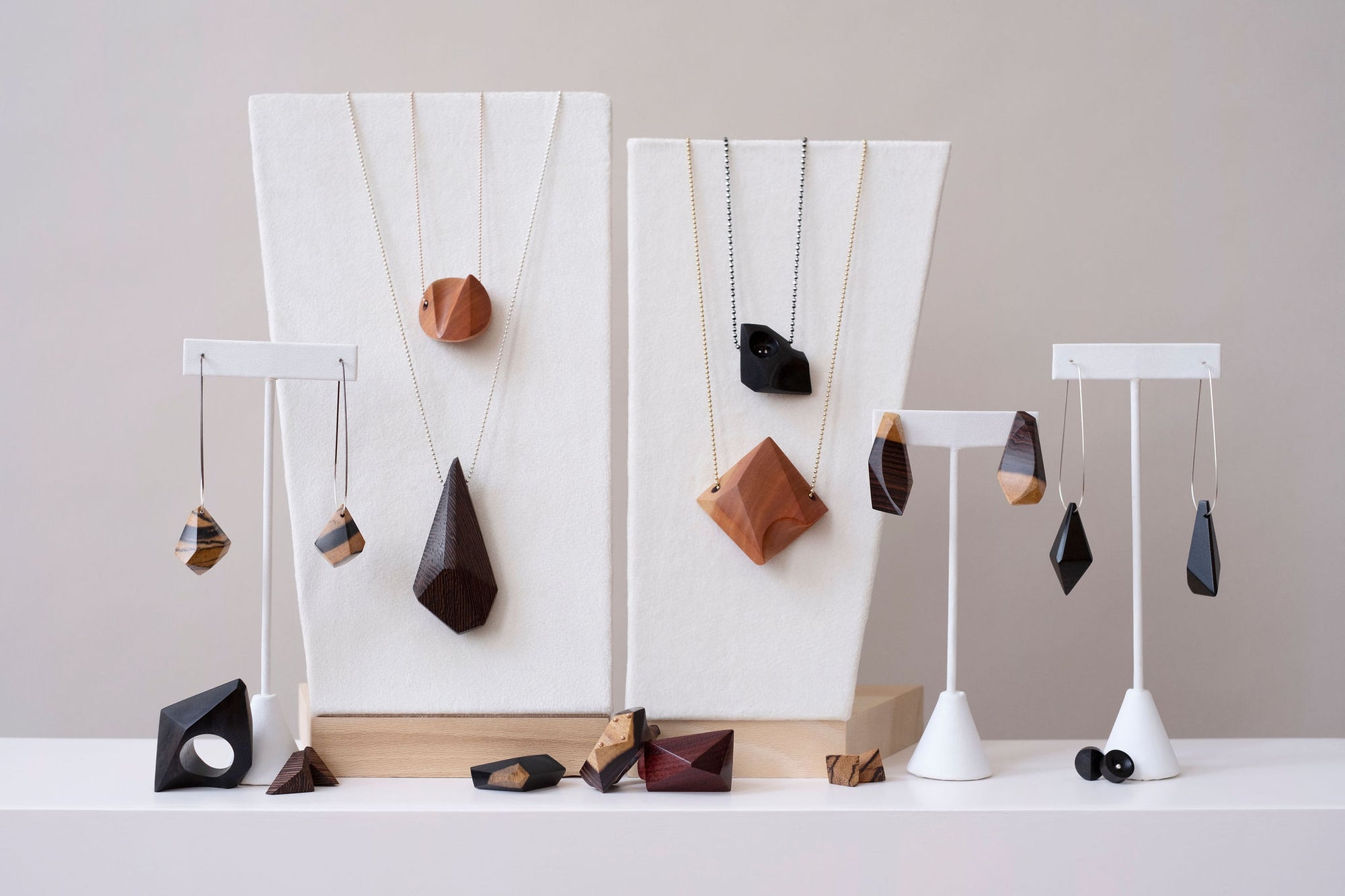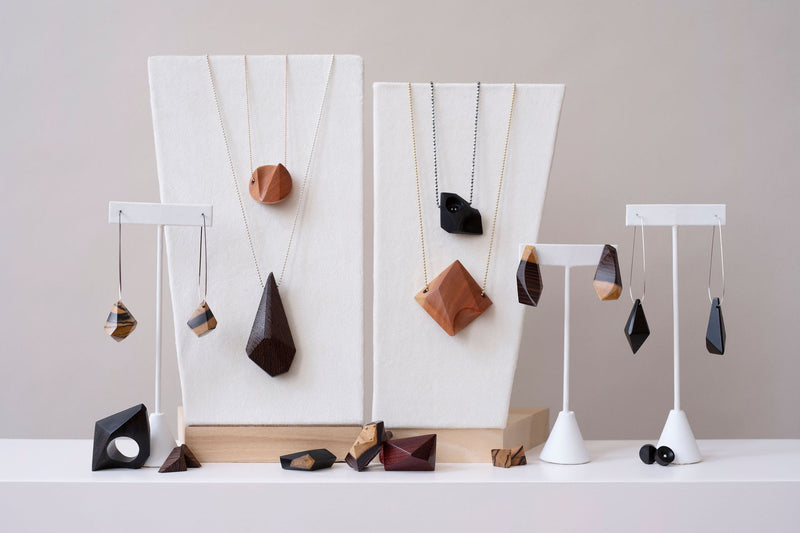 Wood Fit for the Royal YOU
Throughout history, certain types of wood were associated with royalty, symbolizing power, elegance, and luxury, not unlike precious diamonds or emeralds. Each P&A piece is a result of careful curation of materials and dedication to craftsmanship. Just as a skilled artisan shapes and cuts a gemstone to enhance its value, hours are invested into shaping and polishing the wood to bring out its innate beauty and worth. P&A jewelry crafted from these exceptional woods allows you to not only embrace the beauty and historical significance they hold, but also to tap into the inherent qualities of strength and grounding that wood offers to everyone.
Fit for the Royal You.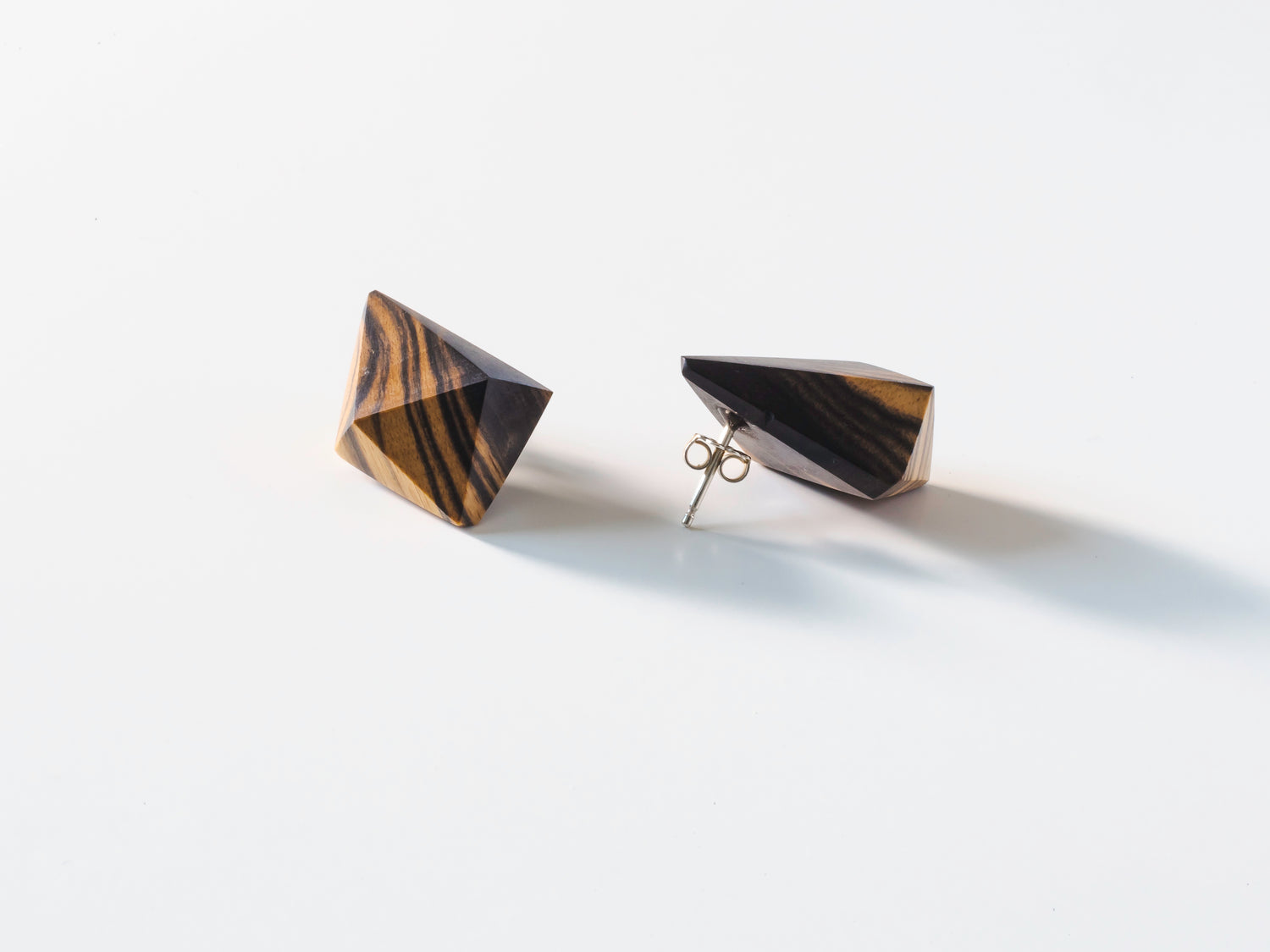 Pale Moon Ebony
Scientific Name: Diospyros malabarica (syn. Diospyros embryopteris, D. peregrina)
Distribution: Laos and southeast Asia
Tree Size: 50-115 ft (15-35 m) tall, 1-3 ft (.3-1 m) trunk diameter
Pale Moon Ebony, also known as Black & White Ebony is one of the most valuable woods in the world. Many mistake its appearance for a type of tiger eye or stone, often expressing disbelief that it is wood. Some P&A pieces crafted from Pale Moon Ebony have grain patterns that evoke the elegance of Art Nouveau designs. Its distinctive allure and remarkable resemblance to precious stones make it a patron favorite in the P&A collection.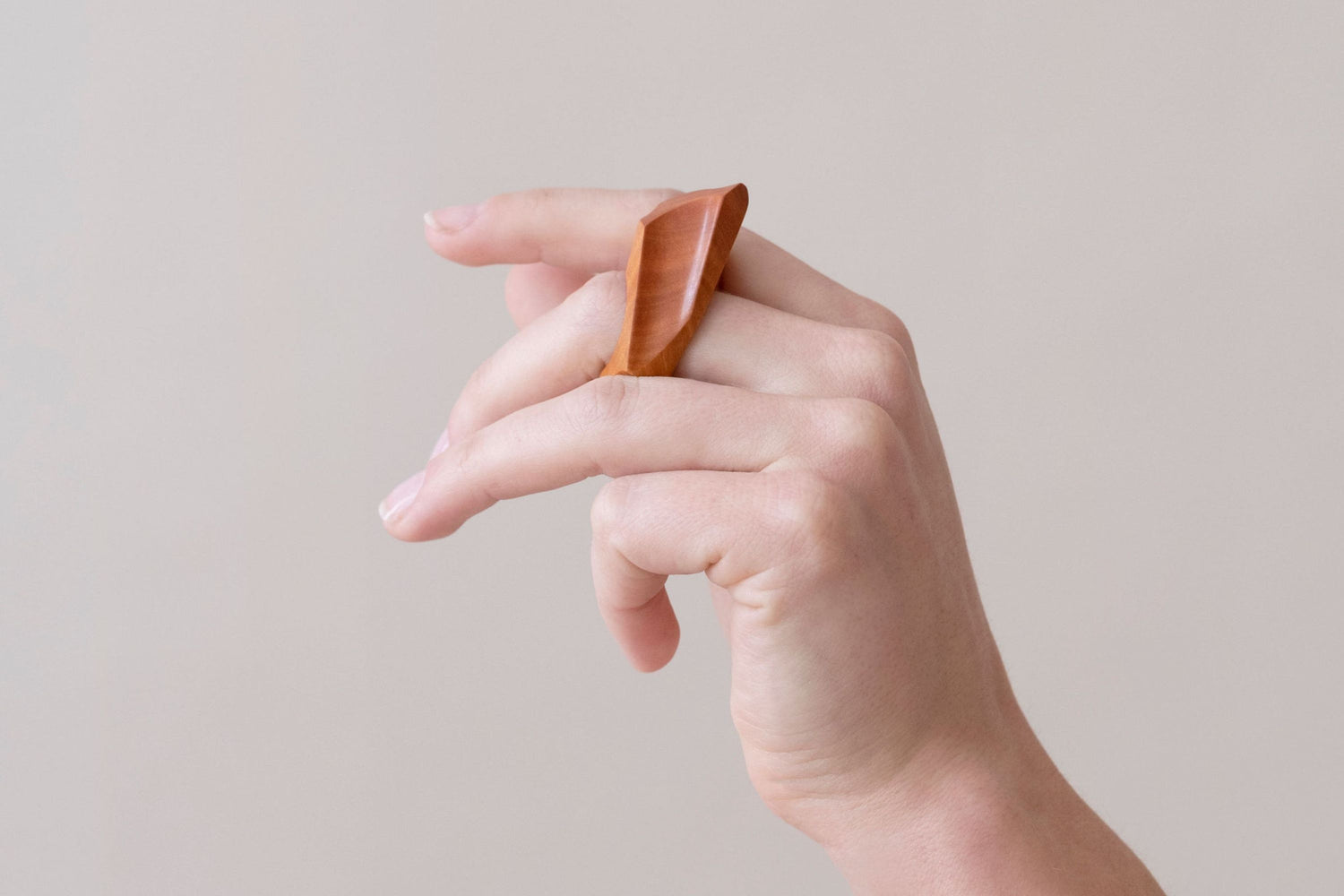 Pink Ivory Wood
Scientific Name: Berchemia zeyheri
Distribution: Southern Africa
Tree Size: 100-130 ft (30-40 m) tall, 3-5 ft (1-1.5 m) trunk diameter
Pink Ivory's captivating pink hue and extreme density sets it apart as a remarkable material for fine jewelry. With scarcity compared to that of diamonds and emeralds, Pink Ivory carries an air of exclusivity and allure. Beyond its aesthetic appeal, Pink Ivory holds profound cultural significance in South Africa where the wood is predominantly found. It is associated with royalty, wealth, and spirituality and is revered as a symbol of prestige and power.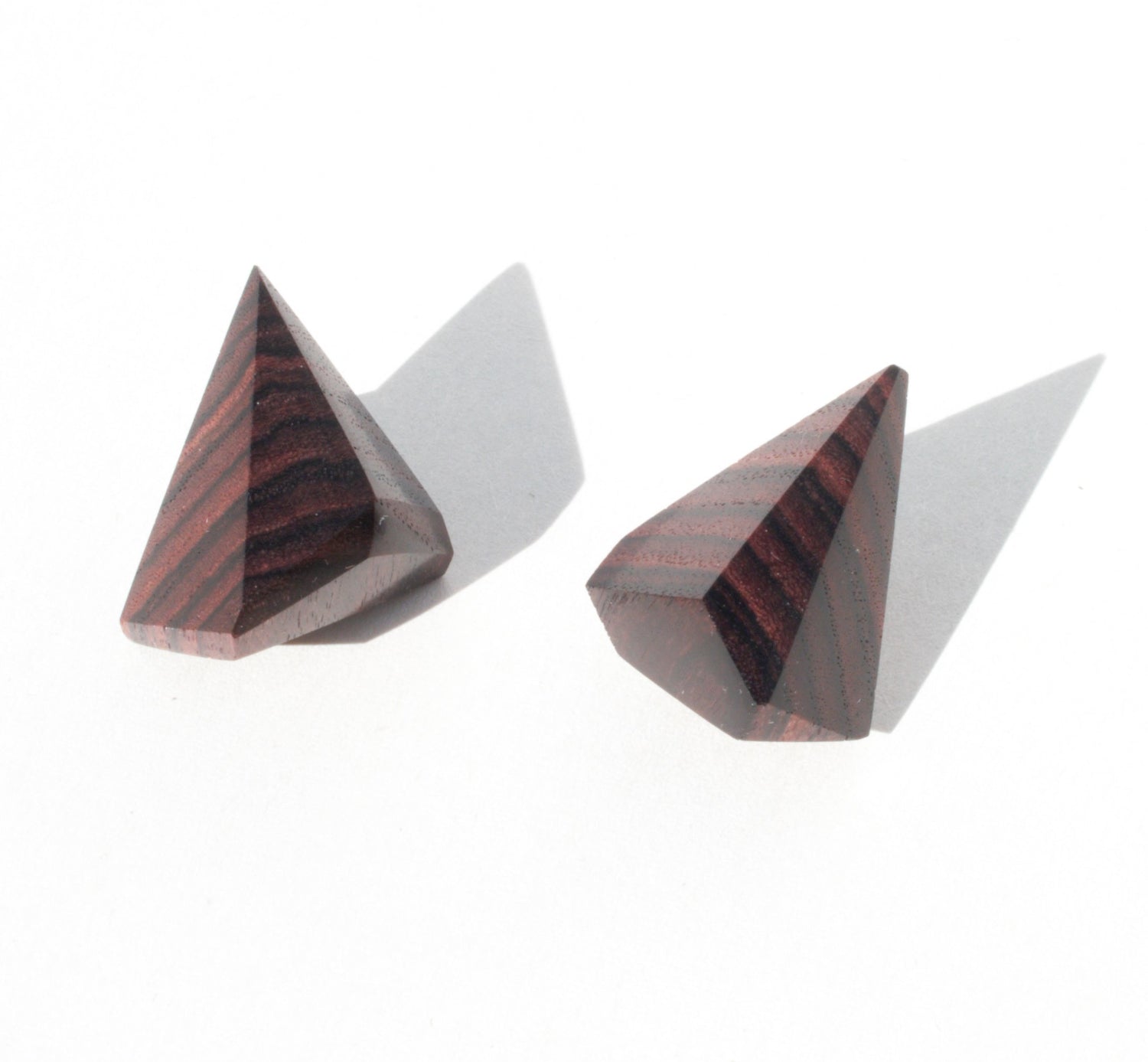 Kingwood
Scientific Name: Dalbergia cearensis
Distribution: Brazil (and occasionally from Mexico)
Tree Size: 30-60 ft (10-20 m) tall,  less than 2 ft (.6 m) trunk diameter
Kingwood, known for its regal history, is aptly named after its favored use by French kings such as Louis XIV and Louis XV in the 17th and 18th centuries. The deep, purplish-brown hue of its heartwood, often adorned with streaks of dark violet or black, adds to its majestic allure. Kingwood is one of the hardest rosewoods, second only to African Blackwood and emits a sweet, violet fragrance when freshly cut or sanded. One can only assume this fragrance and its purple hue contributed to its other common name, "Violetta."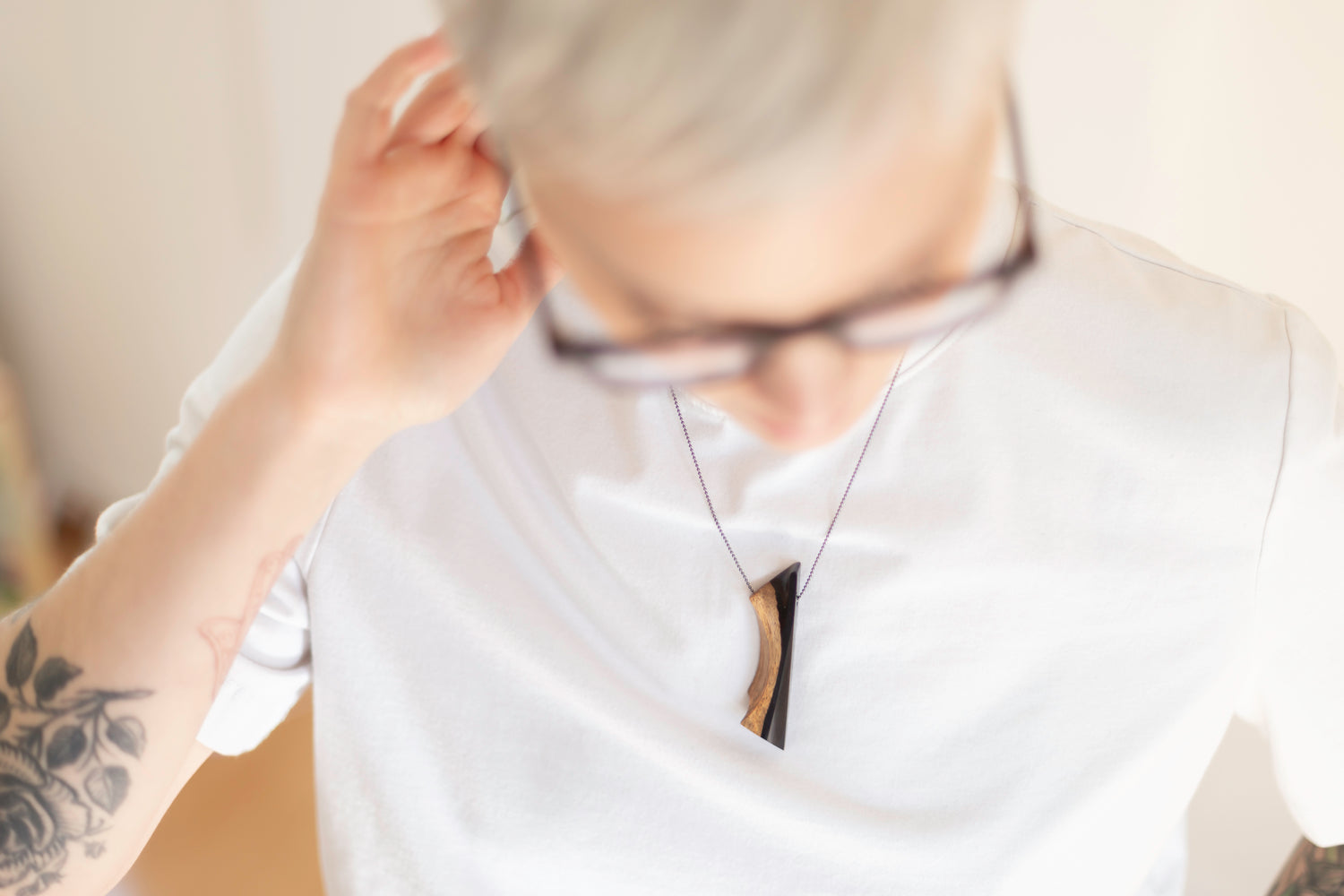 African Blackwood
Scientific Name: Dalbergia melanoxylon
Distribution: Dry savanna regions of central and southern Africa
Tree Size: 20-30 ft (6-9 m) tall,  2-3 ft (.6-1.0 m) trunk diameter
African Blackwood, a member of the rosewood family, closely resembles ebony in appearance. When worked with, it emits a distinct and pleasant fragrance described as sweet and spicy. Known for its nearly black heartwood, African Blackwood can be polished to resemble onyx, but with a pleasingly warmer feel. Incorporating asymmetry with the golden-colored sapwood and the contrasting heartwood has become a recognizable feature in in P&A designs.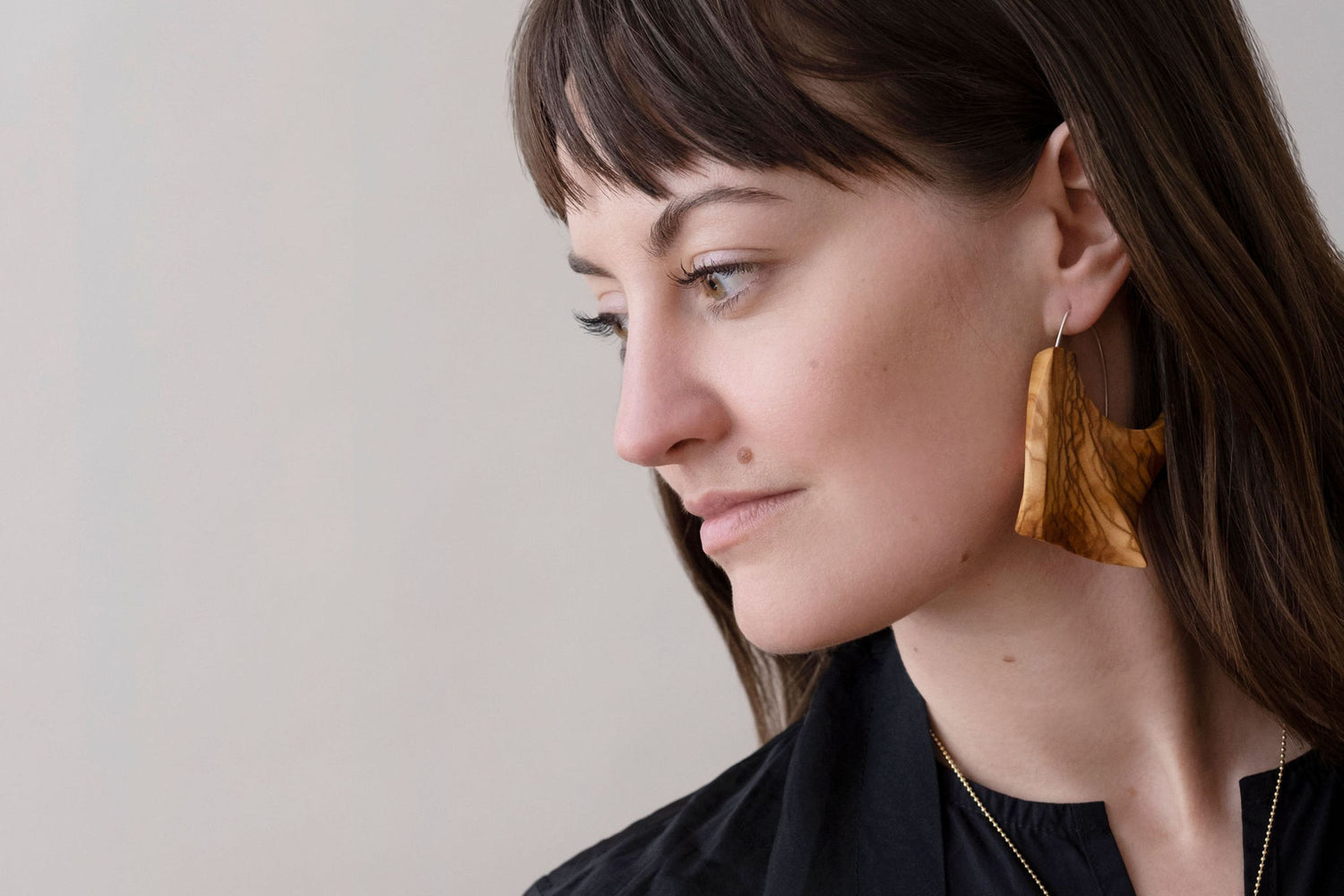 Olivewood
Scientific Name: Olea spp. (Olea europaea, O. capensis)
Distribution: Europe and eastern Africa
Tree Size: 25-50 ft (8-15 m) tall, 3-5 ft (1.0-1.5 m) trunk diameter
Olivewood holds a rich and storied history that spans thousands of years. Revered for its durability, beauty, and symbolic meaning, it has been mentioned in ancient texts and cherished in diverse cultures. Olive trees themselves hold significant symbolism, representing peace, prosperity, and longevity across various cultural and religious contexts. The distinctive grain patterns of olive wood add to its allure, showcasing mesmerizing swirls, knots, and contrasting colors. Each piece of olive wood possesses a unique and visually captivating appearance, making it a remarkable choice for artistic creations.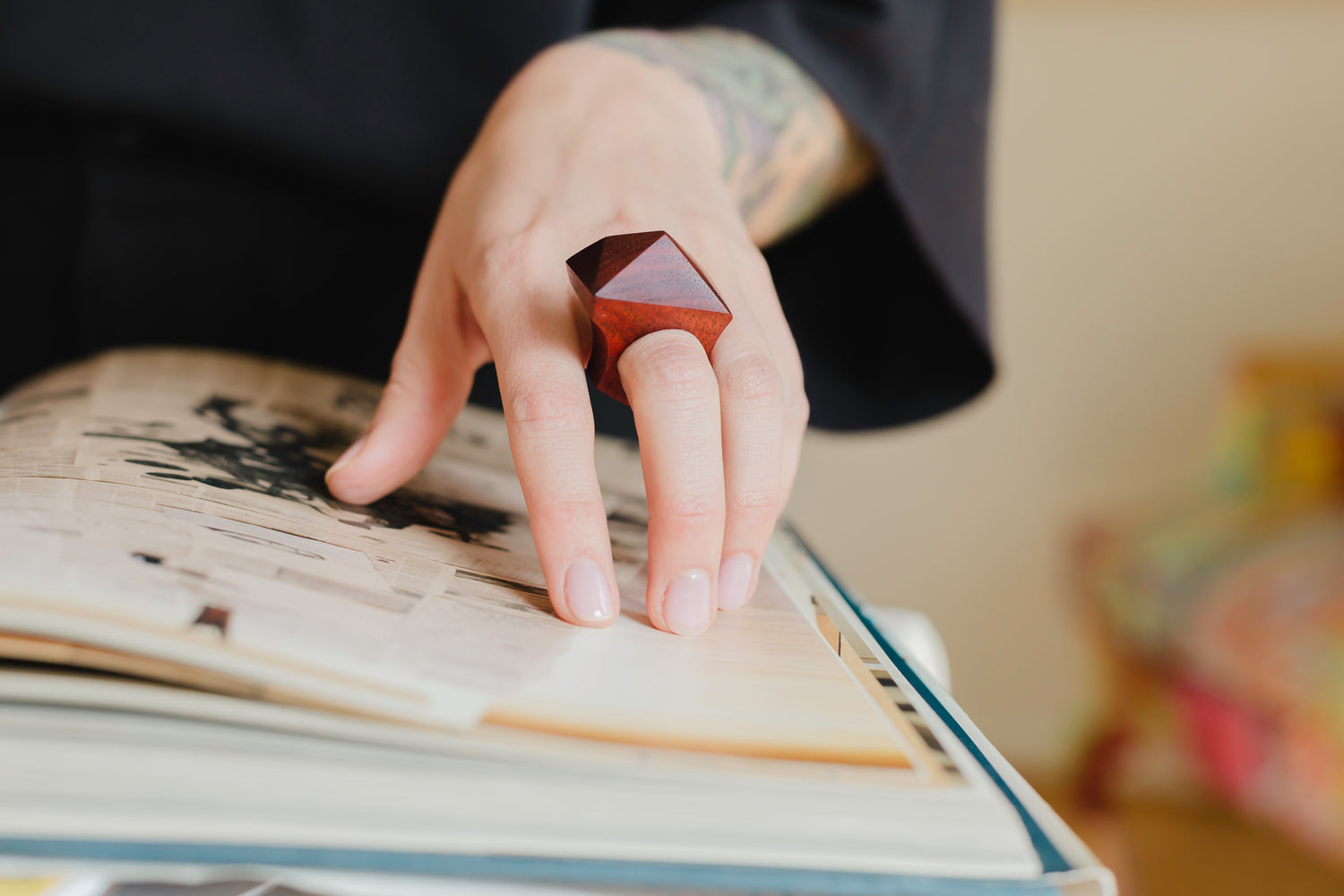 Bloodwood
Scientific Name: Brosimum rubescens (syn. B. paraense)
Distribution: Tropical South America
Tree Size: 80-150 ft (25-45 m) tall, 4-7 ft (1.2-2.1 m) trunk diameter
Bloodwood, with its intense and vibrant red hue, captures the eye and ignites the imagination. Unlike its unfortunate namesake, the blood diamond, bloodwood's rich color tells a tale of natural beauty rather than human suffering. Found in the lush rainforests of South America, bloodwood boasts exceptional hardness and durability.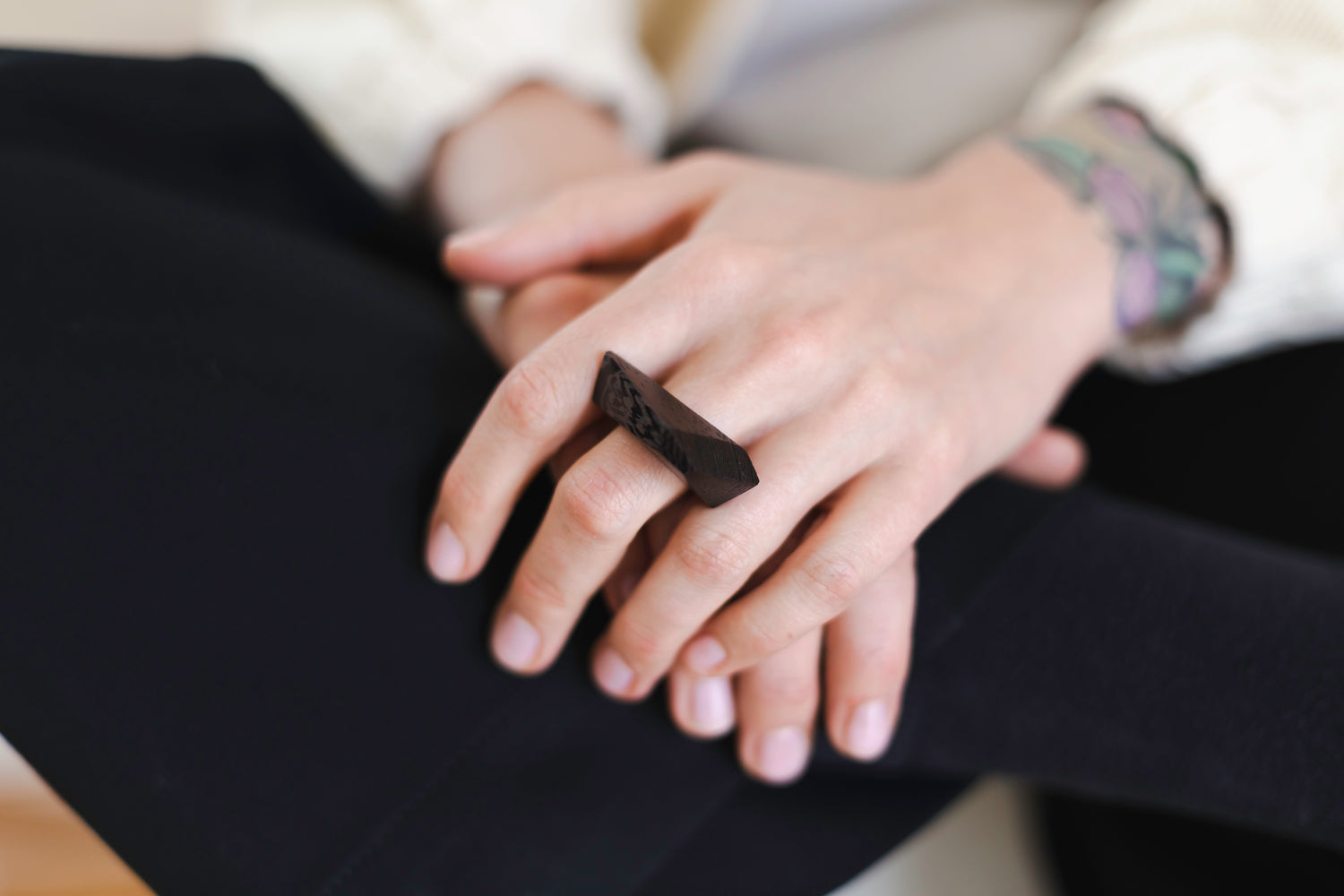 Wenge
Scientific Name: Millettia laurentii
Distribution: Central Africa
Tree Size: 60-90 ft (18-27 m) tall, 3-4 ft (1-1.2 m) trunk diameter
Wenge, usually pronounced WHEN-gii or WHEN-ghay. Within a single jewelry piece, one can skillfully showcase the versatility of wenge's grain, revealing contrasting facets of its beauty. Its tight, clean lines exude a modern aesthetic, while at a different angle, intricate cathedral-like patterns emerge, reminiscent of feathers. Though wenge is known for its tendency to splinter and its larger end grain pores, these characteristics can be harnessed to enhance the design. Careful handling and craftsmanship allow the wood to transform into a polished surface that embodies both contemporary sleekness and ornate intricacy.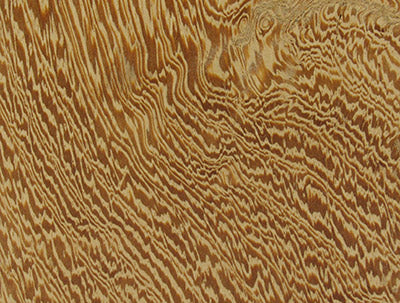 Lati
Scientific Name: Amphimas pterocarpoides and A. ferrugineus
Distribution: Central and West Africa
Tree Size: 100-150 ft (30-46 m) tall, 2-4 ft (.6-1.2 m) trunk diameter
Lati wood, also known as "white wenge," showcases an exquisite grain pattern that shares a similarity with wenge—a prominent feature being the wide bands of parenchyma present throughout the wood. Parenchyma refers to the living tissue in plants that performs various functions such as storage, secretion, and support. In Lati wood, these wide bands of parenchyma create visually captivating patterns. However, despite these shared grain patterns, it's important to note that Lati and Wenge are not botanically related. As I have recently started working with Lati, I have come to appreciate its light and bright golden color and the distinctive lace-like grain pattern it offers to new jewelry designs.
*Completed jewelry image coming soon. Current image from Cormarkint.com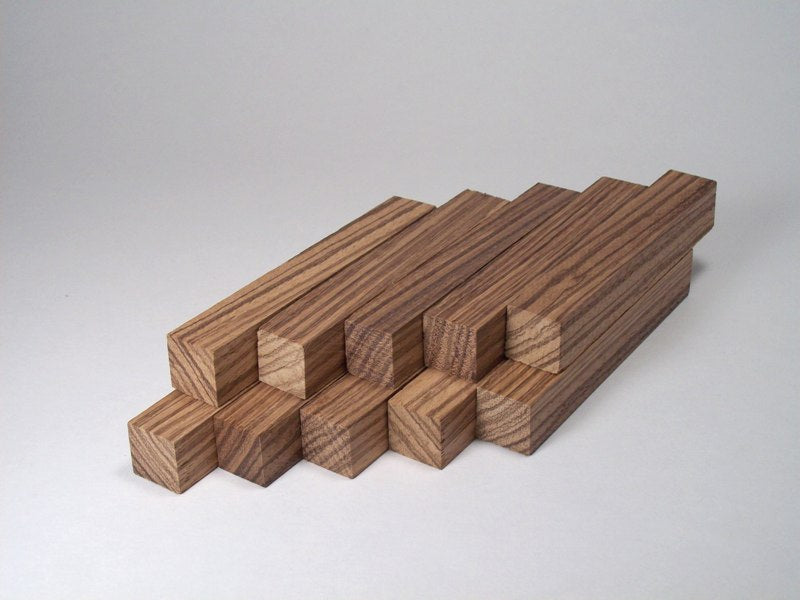 Zebrawood
Microberlinia brazzavillensis
Distribution: West Africa
Tree Size: 65-130 ft (20-40 m) tall, 4-5 ft (1.2-1.5 m) trunk diameter
Zebrawood, celebrated for its captivating stripes, has even found its way into the realm of luxury cars like Cadillac and Mercedes-Benz as a prized interior trim option. These prestigious automakers recognized the wood's exceptional value, using it to adorn dashboards, door panels, and center consoles. As if exotic woods didn't already have such historical ties to royalty, even Elvis Presley himself owned a Mercedes-Benz with zebrawood accents, further attesting to its timeless allure. With its unique and playful charm, zebrawood continues to be cherished for its exquisite beauty and versatility, adding a touch of sophistication to various luxury experiences.
*Completed jewelry image coming soon. Current image from Cormarkint.com
Information pertaining to features, regions, tree specs and performance of various woods was sourced from The Wood Database